Travel Nursing in Action
Nov 09, 2021
As she writes in her blog, Chandler has always wanted to apply her nursing career globally, connecting her skills with the healthcare needs of children around the world. Needless to say, FIMRC's mission of providing access to healthcare to low resource and medically underserved families around the world lies well within her passion. And while she had traveled previously, she was still, "extremely nervous about going on a medical mission during a resolving pandemic." But with a leap of faith and some guidance from FIMRC staff, Chandler seized her moment and didn't look back!
She wrote three blogs of her own to share the breadth and depth of her experience with FIMRC, and so if you're thinking about volunteering abroad they are a wonderful resource to better understand how FIMRC continues to provide quality healthcare for the community of Alajuelita while keeping volunteers, staff, and the community safe throughout a pandemic.
BLOG #1: DEFINING FIMRC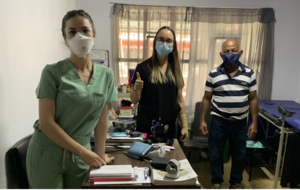 In this blog, Chandler highlights FIMRC's mission, Project Alajuelita programs, and the pandemic's impact. Chandler writes, "[While] COVID-19 has greatly impacted the entire world, including all the FIMRC clinics…FIMRC didn't let the pandemic stop them." She highlights that, "FIMRC transformed the volunteering to a virtual global health program." when the pandemic hit, but that, "If you prefer in-person opportunities, you can now volunteer in Costa Rica!"
You can read the entirety of her blog here.
BLOG #2: VOLUNTEER EXPERIENCE
Chandler details her volunteer experience while in Costa Rica; one of the aspects she emphasizes throughout is how, " safe and at home" she felt, even before landing at the airport. In summarizing her time at the FIMRC clinic, Chandler, "was beyond inspired to see how the clinic utilized WhatsApp to communicate with their patients." She explains that, "three women [FIMRC staff] are the dream team and have managed to keep this clinic operating during a pandemic. They are incredible."
From logistics to language, you can read more details about Chandler's week here.
BLOG #3: CHANDLER'S PROJECT
"FIMRC utilizes WhatsApp to triage, follow up, and educate their patients. When the CDC releases new COVID recommendations, FIMRC transforms them into easy to digest infograms. What about the patients that can't read? This became my focus." With the help of FIMRC staff, Chandler, "identified the top preventative conditions the clinic sees for women and children. I worked with Doctora Karen to create videos in English and Spanish that could be distributed through WhatsApp to all the patients."
You can see all the videos Chandler created here.
We are so grateful for Chandler's passion and commitment to supporting pediatric healthcare needs around the world, and for her time spent supporting Project Alajuelita, Costa Rica. In addition to her time, Chandler also brought donations, including stethoscopes and blood pressure cuffs which she procured through MDF's Crafting Wellness Program. Chandler's time and donations will have a lasting impact on the site's ability to provide high quality healthcare at Project Alajuelita.
Interested in volunteering abroad or participating in our virtual programs? Check them out below!
Learn More
Stay connected with news and updates!
Join our mailing list to receive the latest news and updates from our team.
Don't worry, your information will not be shared.
We hate SPAM. We will never sell your information, for any reason.