Project Limón Updates After Nate
On October 5th, 2017, Project Limón was hit by the brewing hurricane, Tropical Storm Nate. Located in the Lowlands of Southwestern Nicaragua, our community was quickly engulfed by strong currents and rising flood waters. Below you will find pictures of the devastation our community is facing. You will also find stories of hope, healing, and an opportunity to contribute toward helping a population rebuild.
*Our current project is to Rebuild Los Pipitos Therapy Center*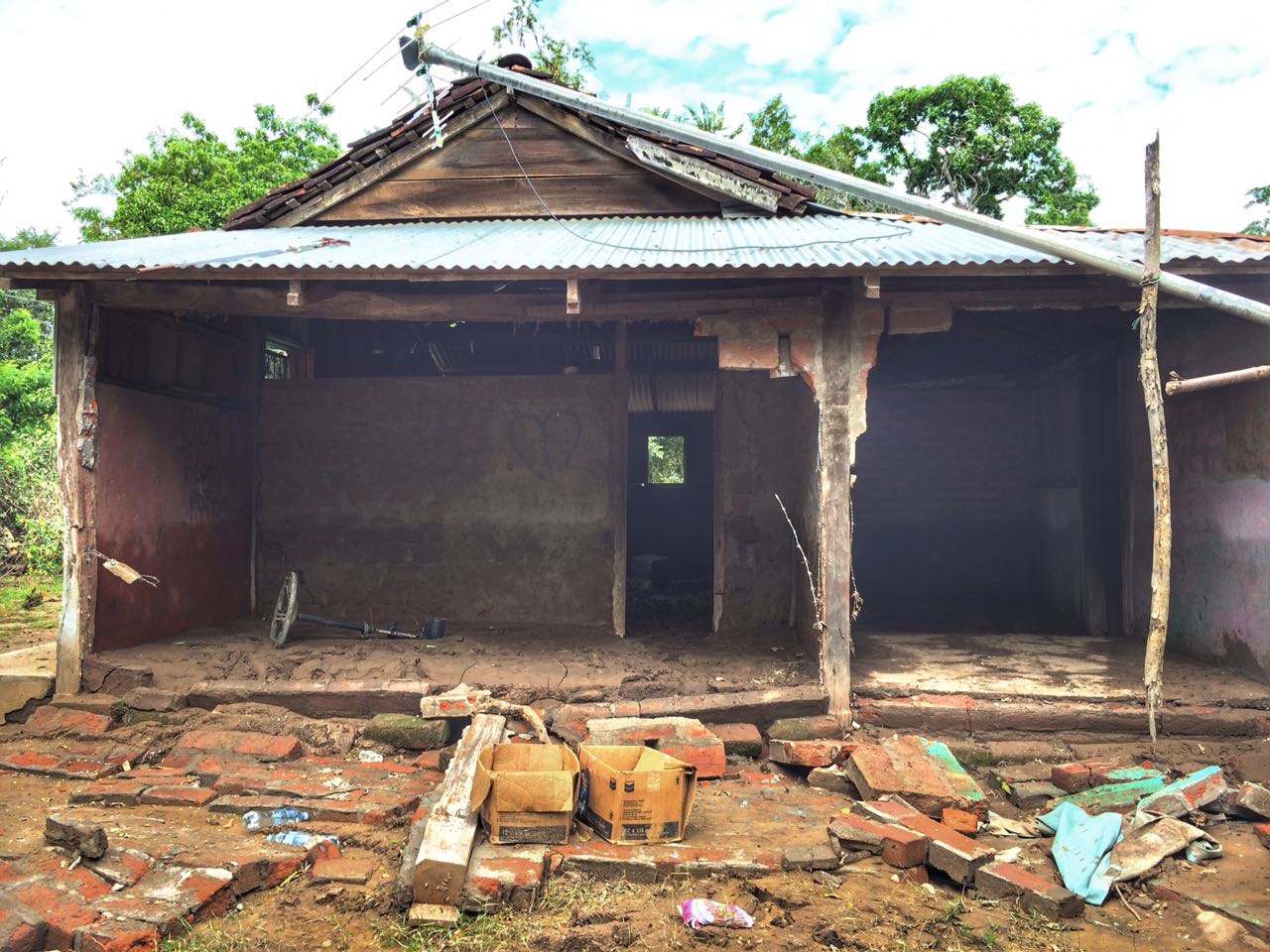 This photo of a home in Limón is full of powerful details. A fallen power line, indicating the lack of electricity. A missing brick wall portraying the storm's strength. Flood lines indicating former water level heights. Empty rooms made vacant by Nate's sweeping currents that took possessions captive. Beds, food, shelter; replaced by a thick layer of mud.
October 5th
Predicting the strength of Tropical Storm Nate was difficult before it made landfall. As water levels rose throughout our community in Limón, families made decisions to wade through the currents of mud & water to get to higher ground. The FIMRC clinic housed 50 evacuees seeking refuge.
October 12
The first week after the storm was full or re-acclimating to the new norms of daily life in Limón. Food, water, and shelter became focal points for the whole community. Nate destroyed structures of homes, washed away all personal belongings (including beds, food, clothes, and toilet paper), and contaminated the wells used to collect water for drinking and bathing. Crops were also taken out by the heavy floods, leaving the community to rely on grocery stores for food. Most members in the surrounding communities have credit cards, but the grocery stores that take cards quickly ran low, thus prices ran high. Faced with challenges of obtaining food and water, eyes looked to FIMRC. As an organization we began providing immediate relief to over 20 communities. Our ability to take out cash to purchase beans, rice, water, & necessities was a timely resource of survival. Helping provide access to food & clean water has allowed families to focus of the challenges ahead; rebuilding.
We will be performing a needs assessment starting next week, once immediate relief needs subside. We will assess the damage in each house and make a plan for rebuilding.
Nine Months Pregnant & Homeless from Floods
On October 13th FIMRC gave job opportunities to 13 community members looking for work after Tropical Storm Nate. They devoted their day to helping those most affected by the storm. On Friday this included shoveling out a home, a home engulfed by mud past its door frames. The workers walked 2 hours before arriving to this task of hard labor. What makes this story even more impressive is the fact that the woman of the home was 9 months pregnant. Thanks to fundraising efforts and generous contributions, we were able to employ workers to reunite a soon-to-be mother with a livable home. The team also spent hours washing clothing that was found during the digging.
Digging out a School in Higueral
The same community that walked hours to un-dig an expecting mother's home walked the same distance on October 14th. This time their trek was to a school needing prepared for the return of class. October 16th marks the first day back school for most children in our communities. We had 23 people helping restore this campus back to working order. A great deal of school supplies, curriculum, and furniture were lost to the flood.
We are continually surprised by the improvements that have been made in such short amounts of time. Thank you to everyone who has helped provide food, water, and jobs for this resilient community. In response to immediate needs, there will be two containers that will be shipped to Nicaragua out of Texas. If you would like to contribute tangible supplies, current requests on the ground include:
Sheets

Towels

Houseware Goods: plates, cups, silverware, plastic cups

School Supplies: notebooks, markers, etc.

Books

Personal Hygiene Products: toothbrush/toothpaste, deodorant, razors, soap, shampoo, conditioner, brushes, combs, diaper cream, baby shampoo

Water Filters

Insect Repellent

Floor Fans

Over-the-Counter Meds

Hand sanitizer, soap

Pots/pans
Items can be shipped to:
Attn: George Miller
Ship it AOG
4309 Lindbergh Drive
Addison, TX 75001
Leo Mayorga is the main contact for coordinating shipments (leo@shipitaogllc.com, +505-8813-9940). Items should be sent by October 27th to make it on the first container. There will also be another container leaving at the end of November.
Don't have supplies but still want to help? Click "Donate" below to make a contribution. 100% of contributions go to relief efforts on the ground!
Week 2 Update
The first week of flood relief was all about providing basic life necessities to our surrounding communities. Now that immediate needs are being addressed, we are shifting our focus to cleanup, rebuilding, and assessing our most at-risk family units. Here's our plan for the next few weeks:

Assess our homestay family locations. Since these families graciously accommodate volunteers in their homes as a source of income, addressing their household losses will be important to get them back on their feet.


Evaluate participants within our micro-health insurance program. This program has 5 families enrolled that have chronically ill children. In the past we have done home assessments for these families and found poor conditions. As an incentive to adhere to hygienic practices in the house and attend weekly seminars, they have earned points to go toward home improvements. Most of these households lost mattresses and personal items to the storm, which we will try to replenish as appropriate.


Through our ongoing malnutrition program we have already identified community members that are at a higher risk for malnutrition. We will assess the homes of these family units to ensure there are no health hazards such as mold, wet mattresses, or anything that could jeopardize the health of children with lower immune systems.
On another note, we have continued to see huge community participation in cleaning up neighborhoods. This week, part of that cleanup took place at the beach. Our group of workers rarely, if ever, get to see the ocean since they live in the mountains. Needless to say they were more than happy to clean up the beautiful beaches in the rain.
Helping The Most Vulnerable
In the years that Project Limón has been in Nicaragua, we have identified a number of families that face extra challenges when it comes to obtaining full, balanced diets. Our Malnutrition Program was initiated to help these families address their struggles with proper nutrition. This week our team performed wellness checks for these families to evaluate potentially hazardous conditions. During these evaluations we were also able to provide these families with extra food and clothing.
Once again, THANK YOU for making these donations possible!
Community Interviews at School Cleanup
October 29th, Mattress Distribution
When water engulfed homes throughout Limón and surrounding communities, many household items were left ruined. Mattresses were soaked, and although they dried, mold could not be removed. Thanks to your generous donations, we were able to gift many families with mold-free mattresses. These gifts were especially important to our families with chronically low immune systems.
Snapchat Takeover
Starting November 6th, our wonderful returning volunteer, Tiffany Martinez, will be sharing live updates from Project Limón! You can follow her day-to-day experiences in Nicaragua by following our Snapchat account, @fimrc. If you don't already have Snapchat, you can download it for free here. Then use your device's snapchat account to scan the Snapcode below. Thank you to everyone who has made contributions toward getting these communities back on their feet!
I See Love, a Non-Governmental Organization based out of Nicaragua's capital city, Managua, will be hosting a medical brigade in our communities November 25-30. We will be hosting and working alongside them during their visit, providing the manpower behind extended relief efforts. I See Love is comprised of Nicaraguan medical professionals, locals who are devoting their time and energy to helping the regions of their country facing heightened medical challenges. We will operate mobile clinics in the communities of Limón 1, Limón 2, Las Salinas, and La Virgen Morena. Our staff and volunteers on site will work in tandem with I See Love to provide resources to the communities hit hardest by the floods. I See Love will be bringing brigade physicians and medications to remote communities. We will also be continuing community-wide efforts to rebuild houses that were completely lost as well as cleaning wells to provide clean water. We look forward to reaching extra communities with an increased number of helping hands!
We are amazed to see so many efforts taking place to help our communities heal from the devastation left by Tropical Storm Nate. Our fundraising platform for Project Limón sends 100% of all donations straight to the communities in Nicaragua.
With your help,
these communities will rebuild, strengthen, and recover.
Rebuilding Los Pipitos Therapy Center
Los Pipitos is our learning and physical therapy program that we have offering these services to children with disabilities in the area. Los Pipitos is a national organization providing these services throughout Nicaragua.
The therapy is given in a separate building from FIMRC, which was donated to Los Pipitos by the community. It is an old preschool in the area that was just an abandoned building. It has never had the best of conditions, however after the flood it had major damage to the structure of the building that needs immediate repair. We are currently in the process of obtaining permission to make renovations and improvements to the building and wanted to start a fundraiser specifically for funds towards this program. Watch our video for more information:
THANK YOU to everyone who has already contributed to this project.
Thanks to your generous donations, and our partnership with the OM Foundation, the construction process has begun!
May 11th:
Thank you so much to those who have donated, you've made this happen!! We have started the construction process, but we are still collecting funds! Click below to access our Los Pipitos Therapy Center Fundraising page. 100% of donations on this page will benefit this specific project!
Stay Tuned...
We will continue to provide updates from Project Limón, as our community in Nicaragua continues to recover from Nate.