Since 2016, FIMRC has been supporting community health in Anconcito, Ecuador – a small town on Ecuador's Pacific coast. Government instability has led to significant gaps in health care, especially for the region's underserved populations – and that's where the FIMRC team comes in. Our staff and volunteers help fill those gaps and offer access to health care for children and families in the area, but we couldn't do it without our amazing volunteers.
At Project Anconcito the majority of FIMRC's efforts are focused on community outreach with most of our work done outside of a traditional health clinic setting. FIMRC staff and volunteers live and work among the families in Anconcito, each day gaining a better understanding of their daily challenges and priorities.
Each volunteer's reason for choosing Project Anconcito and their experiences on site are as unique as the volunteers themselves. Below we share some quotes from three such volunteers, Makda Mehari, a junior at Centre College, who served for five weeks as part of the Lincoln Scholars program at Centre College; Catie O'Reilly, a junior at Vanderbilt University and part of the Ingram Scholars program; and Kathleen Hopps, a high school student from Illinois.
"What truly drew me toward working with FIMRC was Project Anconcito's emphasis on health education and community outreach," said Makda. "Project Anconcito works not only to educate members of its community on how they can maintain and improve their own health but also ensures that community members are enabled to help one another."
Catie served alongside Makda and helped expand FIMRC's nutrition education initiative.
"I helped plan activities and lessons for the nutrition program, and for our Promotores de Salud program," Catie said. "Such programs are the core part of this growing site, and they truly seem to be valued by the community."
The nutrition education program is one of many community education initiatives at Project Anconcito. Volunteers and staff also work with local teachers and students to share health information in classrooms, develop diabetes treatment and prevention programs, and support youth clubs focused on health, drug and alcohol prevention, and empowerment.
Kathleen Hopps, who volunteered at Project Anconcito as part of our Student Adventure Program (SAP), joined in on some sports and community outreach programs.
"My first afternoon in Anconcito, we played Captura La Bandera (Capture the Flag) to showcase the importance of teamwork," she remembered.
Engaging in sports and recreation activities for the children is another key FIMRC initiative. It offers an entry point to improved community engagement and education.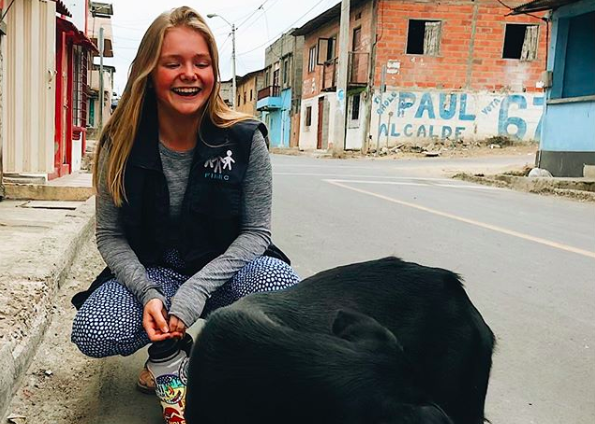 "What was really special about Project Anconcito was getting to witness young children conceptualize and internalize the notion that they have agency. I saw young girls creating images of themselves as doctors. Watching them feel joy as they shared their aspirations with one another was a very special moment for me," said Makda.
For Catie, another profound part of her time in Ecuador was the connections she made with other volunteers (like Makda), FIMRC staff, and of course, the community.
"I grew so many relationships in Ecuador. The staff taught me Spanish vocabulary words (especially regarding soccer aka futbol). My other two in-house interns (Makda and Richard) became friends I know I will keep up with for many years to come. The Field Director at the time, Natalie, taught me so much about the public health industry, and she was such a role model and someone to strive to be," Catie said.
And of course, there is also always time for a little fun while volunteering.
"The first weekend we traveled to Puerto López, a coastal town in the Manabí providence, just north of Santa Elena. We spent Saturday on a boat, traveling to Isla de La Plata ("Island of Silver"), snorkeling in the Pacific, seeing whales, hiking on the island, and watching incredible animals on the island," Kathleen shared.
Each volunteer walked away with a different experience and a new perspective on the world.
"Anconcito taught me so much about health education, public health, teamwork, and health promotion. The focus on community development through health promotion allows you to truly get to know the community on a personal level through classes, workshops, and health fairs. I will forever be grateful to the relationships I gained in my time there," Catie said.
And the time volunteers spend on site can have a lasting impact, especially at a site like Anconcito where community outreach and education are the primary focus.
"At Project Anconcito there is considerable emphasis on health education, these programs can also work to allow communities to transcend their circumstance through giving them tools to understand and treat their condition(s)," shared Makda.
Start planning your own service trip to Project Anconcito: